Monster Hunter Stories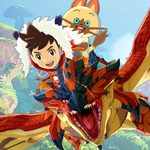 Game Description
When the monsters strike — the brave ride! The game is a story of long friendship and exiting adventures.
At the beginning three friends, the hero, Lilia and Cheval, are looking at the shiny egg with "The King of the Sky" inside. It's a baby Rhatalos, flying wivern. They bring the creature home. But very soon their village is attacked by a monster infected "The Black Blight". It lives deep scars in Lily's and Cheval's hearts. The changes are coming…
Amazing graphic and fantasy plot of this multiplayer don't leave anyone indifferent. Collect eggs and grow extremely powerful creatures. Mix genes and create new monsters with incredible features. Crush your enemies and meet the sunset as a champion. You can battle with others locally, online or using StreetPassTM!