Pico Park 2021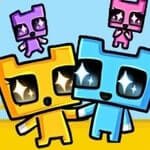 Game Description
What do we know about Pico Park 2021? It's a top app for a big active team of adventurers, highly flexible, and available across many popular platforms. It makes you closer to your friends, features a cute pixel design, and impossible challenges, and that is why it's so high-rated.
Try Most Epic Puzzle Platformer
On starting levels, you will get to know the idea. For some, even the first step is a quest: missions get a unique vibe when you're playing with a prankster, the I-will-do-it-alone mate, or a person new to mind-benders. Troubles out of the air are inevitable when you have more than three members in your dream team.
Nothing is impossible, right? At some point, you will hesitate this statement. Because it's not enough to get to the key, which is a daunting task by its nature, especially when the valuable item is bottled. You all must get to the door unharmed and open it with this key. The snag is, you must hit the restart button each time one of the kittens falls into the void.
Game to Saturate Your Day
Honestly speaking, you will expand your collection of hated colors. Yes, each player chooses the hue of their kitty. The interface and background track are charmingly simple, letting you concentrate on the discussion and progress. The main focus of the game is on your club, not surroundings.
Pico Park 2021 is very tricky. It loves moving a platform when a wanderer is about to step on it, or giving highly fragile crux items, making the host restart for fifty times, or changing the weight, size, breaking controls of characters. It won't let you get bored, inspiring an array of emotions from rage to excitement. Call your friend for a virtual hangout, which can be set up at your home or via remote connection. And don't take losses personally: all in all, friendship has a higher value than a victory.