Toca Recipes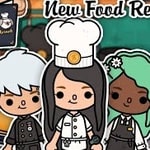 Game Description
In this game kitchen, you're going to learn the preferences and disgusts of your restaurant guests! They will patiently wait for you to create a piece of culinary art. An oven, fryer, steaming pot at your disposal to process various fruits, vegetables, and meat from your bottomless refrigerator!
Fry minced meat, cut a bun, slice a tomato, cucumber, bell pepper, and combine it all in a simply delicious hamburger. But isn't it too dull? Let's add some spice to the dish, the spiciest spice on your shelves, and see the reaction of your customer friend!
If you're tired of cooking, you can simply feed a gourmet with everything from the freezer: raw potatoes, a big refreshing cabbage, hot pepper, milk, and many-many more ingredients. Though don't think your friends will thank you after eating an onion bulb!