One Night at Flumpty's 3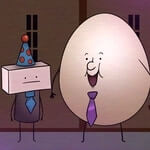 Game Description
One Night at Flumpty's 3 is a creepy horror that all fans of this genre will appreciate!
Your main character finds himself in a room in which the temperature gradually decreases and it freezes. Light the fireplace to keep your character from freezing. At this time, various monsters will constantly appear in your room, for example, a scary clown, a beaver, who has the other half of his face from an owl, and others.
How will you protect yourself from them? You will only have a camera with a flash. The monsters are afraid of the outbreak and immediately leave the room.