in Roblox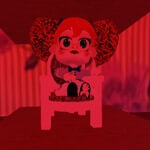 Game Description
Roblox Poppy Playtime is an addicting horror in which you have to go to an abandoned toy factory.
You will visit the building where all the workers suddenly disappeared several years ago. You have to find out the real cause of this disaster. But it won't be as easy as you think!
As soon as you cross the threshold of the factory, all the dolls that are there will come to life. They will be very angry and cruel! You must complete several puzzles to open all the doors in the building and find out the huge secret!
Try to explore the entire factory and stay alive!