Call of Duty: Vanguard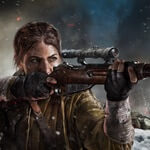 Game Description
Call of Duty: Vanguard opens curtains of the World War II theater. Fight on the French Western Front, Stalingrad Eastern front, in Egyptian deserts of the North African campaign, and the Japanese ocean area on the Pacific front.
There is a place for multifunctional and specialized warriors. Tankmen, aviators, infantry, sailors—all work in a team for the sake of a great victory. Among popular battle modes, the main interest in the new edition is Champion Hill. It is granted with a total of 4 maps and features a time-tested mechanic: fight until one trooper remains.
Gather a team of 2 or 3 or be in charge of your own life. But don't think it's a piece of cake since you will have 12 lives shared among teammates. Plus, there are legendary rifles, guns, cannons, machine guns, and rocket launchers to deal with.