Ratchet & Clank: Rift Apart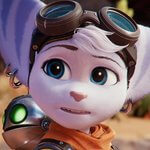 Game Description
Crazy Doctor Nefarious has never ended up being a menace. This time, he's intended to wipe all life off the planet and even succeeds in doing so. You must defend your world… and a couple more.
Ratchet & Clank: Rift Apart is a high-action shooter with elements of platformer. It continues the saga with a stand-alone scenario. That means you don't need to search earlier parts to get an idea of what's going on.
Take a journey with Ratchet, the fox-like rampageous guy of the Lombax race, and his best little friend, Clank. Though Clank is a robot, he surprises us with his ability to think independently and act mercifully. With nature-like qualities, he deviates from the mass of iron killers programmed by Nefarious. The passion of Ratchet complements Clank's intelligence, and together they create a close-knit team.
Drive futuristic city locations, teleport through glowing urban streets, and defeat heartless machines before they eliminate you with all biological life. On your side, you have hot laser blasters, heavy hammers, multifunctional backpacks, and a new companion called Rivet. She's another daredevil Lombax with a bionic arm, who leads an opposition against Emperor Nefarious. See, in our reality, the archenemy is known as a scientist. But in alternate realms, he takes other arrogant roles.
Our heroes travel between parallel worlds via the rare artifact Dimensionator. You'll spectate glorious skyscrapers and gorgeous ruins, facing an army of robots that occupies almost every bit of the territory.
By an unpleasant fault of the artifact, Ratchet becomes separated from Clank. They must give a lonely fight to the two different images of Nefarious, but there's no time to give up. Help the heroes complete their final goal and save planets despite being rifted apart.