Minecraft Pocket Edition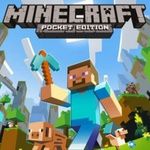 Game Description
Sometimes you just wonder how your favorite app works on different platforms. Are there any differences from the standard? Regarding Minecraft Pocket Edition, there's nothing new for users to brag about. This sandbox works similarly across all devices.
You survive in dungeons, travel to the Nether, but you do it with two fingers instead of a full keyboard. In some amazing way, dozens of controls have shrunk to a buttonless smartphone display, and it's still comfortable.
At its origins, this version indeed contained fewer features than the desktop version. But now, you can create weapons and armor, mine, explode, fight with mobs, create beautiful cottages, and do everything else you want. Plus, the smartphone app receives grand updates as fast as the common version.