It Takes Two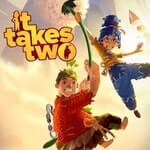 Game Description
You and your friend offended a powerful wizard, and they turned you into rug dolls, though very cute. You are not satisfied with the circumstances and are determined to break the magical spell. But the journey is going to be long, very long.
It Takes Two moves you both to the world of adventure and heart-warming moments. Watching the plot, you will transfer sweet and hilarious moments to your real relationships. In a tightly-knit pair, solve puzzles of different difficulties that require simultaneous actions, understanding, and trust in each other. Quarrels are inevitable, as well as uncontrollable laughter and heart-melting compliments.
Visit the doll nightclub, play in robbery, become knights or astronauts. Dolls can put themselves in any role, and that's your benefit! Explore amazing locations full of dreamy mystery. Sometimes, you will be parted, but only to get together again. You won't stop until you play this beautiful game to the end.